Pastor says Summitt's death 'imminent'
Written by Dick Cox

Monday, 27 June 2016 23:17
The pastor of legendary Tennessee women's basketball coach Pat Summitt told Knoxville talk-radio host Hallerin Hilton Hill on Monday that Summitt's son, Tyler, no longer is allowing visitors to see her, and her death is "imminent."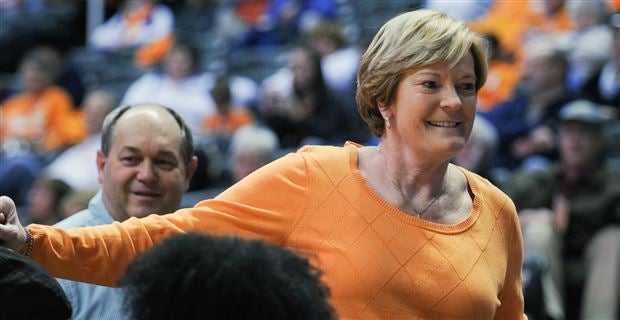 A spokesperson for the Summitt family confirmed Sunday in a statement that Summitt's battle with early-onset dementia, Alzheimer's Type, was "progressing," and Dr. Chris Stephens — senior pastor at Knoxville's Faith Promise Church — told Hill during his show Monday afternoon that Summitt "probably" won't survive more than a "few days."
"There's no visitors allowed anymore, and Pat will probably pass into Heaven in the next few days," Stephens told Hill on Knoxville's WOKI-FM.
"Pat has gone down pretty rapidly. Tyler has been unbelievable in taking care of his mother — the best help, the best folks that could possibly be — and he's doing very well. He said yesterday there was a line of players to come, said, 'We love you,' and, 'Goodbye.' But Tyler has said no more visitors, so the doctors are saying it's very imminent."
(Make sure you're in the loop — take five seconds to sign up for our FREE Vols newsletter now!)
Stephens added that Summitt wouldn't overcome her current problems "unless God did a Red Sea-parting miracle."